Annexx Bordeaux South is actually ideally positioned just off the A630 exit 16, and just few minutes out of the Bordeaux center.
Within this state-of-the-art facilities you will find a number of storage units to store your largest or even tiniest items. It's a clean, protected place for your valuable belongings.

You are the only key owner of the storage room, with free limitless access, 7 days a week.

Of course, it's not just the price that will set us a part; it's our individual door alarms, access control, cutting-edge Closed-circuit television and our real dedication to give you the greatest service. We're happy to provide storage very long or short term.


This facility provides self storage to household and business customers, students and members of the armed forces and we are ideally located for easy access from: Talence, Gradignan, Pessac, Villenave d'Ornon, or Mérignac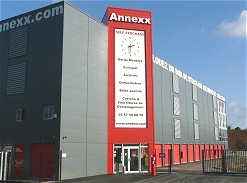 A wide range of cardboard boxes, packing materials and bubble wrap is available in the shop.